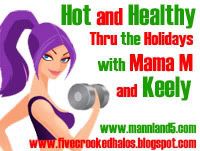 This week has been horrible and frustrating and uninspiring!
I have eaten so well this week (except for one day that I did not totally blow) and thought I was going to be able to hit the gym every day.
Instead....I have been sick with what I now know is a major sinus infection. With the feeling of death yesterday, I reluctantly shelled out the copay to be seen at the doctors. Glad I did now though!
So instead of kickin it in the gym non stop, I spent it in bed. I only got about 3 hours in total for the week. I am however getting tons and tons of water in my diet no and that is great! I LOVE the pilates moves and do them every day, even if I haven't gotten to the gym. They are helping with my flexibility and my dancing too. I dug out my prego pilates video and have done that with my daughter.
I am not feeling so hot this week but was up until I got sick so I am sure this has just been a down week due to the infection. I did have some fast food, but I didn't get fries (got a side salad) and got chicken strips instead of a burger.
Hoping the next few days can help correct last week and prevent Thursday from being overwhelming. Good news is everyone is coming over to celebrate Braedon's birthday for Thanksgiving so I am doing all the cooking. Hot and Healthy being served up for everyone this holiday season! :)